Contact / About
r="0">
Unique Clothing, Accessories & Art designed and hand crafted by EmeraldAngel, all Made in the UK. To provide all our customers with the highest customer care service.

About the creator of EmeraldAngel - Maria Flynn: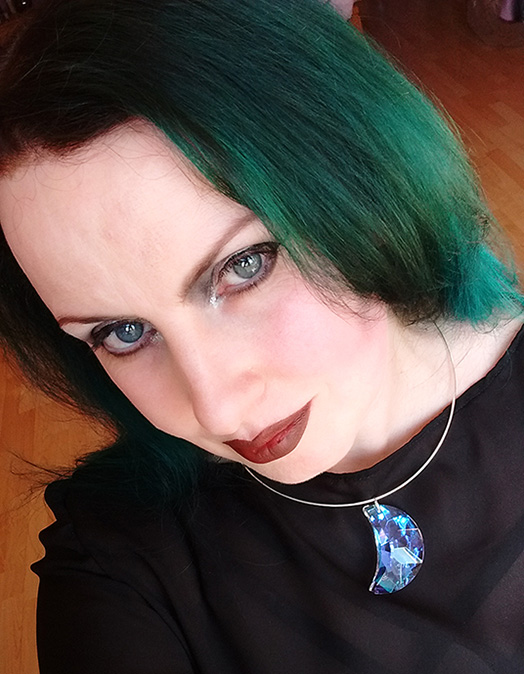 With a pronounced background in fashion and design, both in the academic and professional sphere, I have been designing and making my own creations for many years.
For as long as I can remember I've had a passion for designing and creating my own clothes, accessories and Art. I've been sewing since I was 6 and made my first outfit when I was about 12. I've always loved the more unique, quirky, dark and elegant designs. I find inspiration everywhere from Tim Burton films to the 1920's style of the "Beautiful and the Damned" London scene, 1950's Pin Ups to the late Alexander McQueen. I also find much of my influence from music, from 60's Psych to Gothic and Rockabilly. I've always had a very eclectic dress sense myself, one day I could be a 1950's style Pin up diva, the next a pvc, high heeled gothess ;)
All my designs are are lovingly and meticulously hand made to order here in the UK, mostly by me.
I am also a trained Graphic and Website Designer, you can see some examples of my work here. I've recently worked for theatre companies, clubs and promoters.  
I take commissions so do contact me if you want a commissioned piece whether in clothing, accessories or art. You can see many of my past commissions in my galleries here.
I opened my online store (which I designed myself) in 2007. I'm almost constantly in design mode and have hundreds of designs in my notebooks yet to be produced!

For any Queries:
Also see our Facebook Page!
We also have online stores on the following sites!
Etsy - closing soon, very few deisgns there.
Telephone Mon - Sat (9.30am - 6.30pm):

We've been having occasional issues with our phone number - so the best way to ensure we get your message is emailing, sorry for any inconvenience.
Location: EmeraldAngel has moved! Now based by the sea side in Hove, UK :)